Back To Category Aquarium Fish Other
Title :
Swordtail (Xiphophorus helleri)
Category: Aquarium Fish Other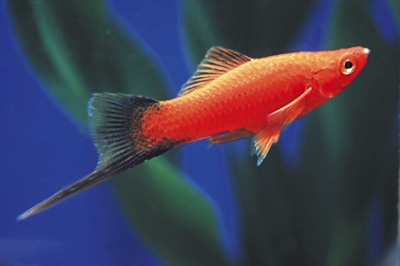 The swordtail is popularly known to favor Central American streams and rivers. It is not hard to breed the swordtail. The swordtail is about 12cm or 41/2inches and it is larger than its relative Guppy.

This species is a tropical fish and can tolerate colder conditions compared to other tropical fish. If you keep the fish together with other fish of different kinds; consider a 24 degrees temperature. This fish also prefers hard water and it highly tolerates salty water. While salt is good for curing and treating some diseases fish that has become used to highly salty waters may not survive in normal water with no salt. If you mix the swordtail with other fish an alkalinity of 7 is preferable.

This species is omnivorous and feeds on mosquito larvae, baby fish, daphnia and even algae. If in an aquarium the fish can eat any food that is eaten by fish normally.

Did you know that some swordtail change sex when they grow older? Well, some female swordtails become males as they grow older. This is a hereditary ability among this species. However, most of these males are infertile and for those that bear babies; the babies are usually female.

If the swordtail is intentionally or otherwise released it gets into waterways and can cause a lot of problems to other fish.

This fish is a livebearer with a 28 days gestation period. Sometimes the swordtail is known to eat their babies. However, if you want to increase their chances of survival keep them in a less crowded place.

A ratio of three females to a male is recommended for purposes of breeding. It has been discovered that female swordtails favor large male swordtails that have longer swords. In terms of appearance the young male swordtails resemble females.

A developing male swordtail has a gonopodium that functions as a penis in other mammals. It is however different in structure.




Search the Web for More information on Swordtail (Xiphophorus helleri) at LookSeek.com Search