Back To Category Sheep
Title :
Suffolk Sheep
Category: Sheep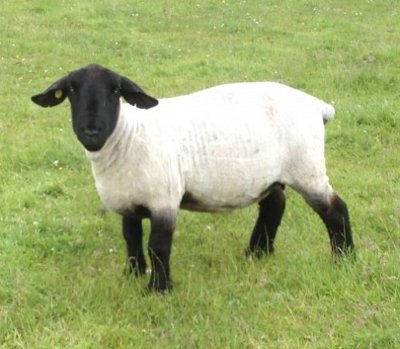 Facts about Suffolk Sheep, "Scientific name for Suffolk Sheep is Ovis aries". Suffolk sheep are a breed of domestic sheep that are bred mainly for meat. They are black-faced, open-faced variety of sheep. Suffolk Sheep breeds were at first developed in England as the consequence of crossing of Norfolk Horned ewes and Southdown rams. The creation of this cross was a development over both parent varieties.

Appearance of Suffolk Sheep

Suffolk Sheep breeds are large sheep appear without horns, dark, strong legs and face, long small necks and have fine bones. The Suffolk Sheep are low set in frontage with elevated shoulders and light forequarters. The Suffolk Sheep head is black, polled, and smooth. The skin of the breed is pink in color and it is soft and fine. The Suffolk Sheep breed has a white coat, fine and moderately small and thick. However, the sides of these breeds are good, rather wide in the loin, and are full in the thigh and twist. The Suffolk Sheep have a clean face, crutch and points, reducing fly strike. The strong constitution offers the Suffolk sheep high resistance to inner parasites.

Suffolk Sheep Ewes

The Suffolk Sheep Ewes are mostly raised for meat and wool production, particularly when crossed with the offspring of a mountain ewe. The lamb created when a Suffolk Sheep ram is crossed with the half-bred ewe is considered perfect for the meat manufacture because usually, they have good conformation. The lamb has the simple-care advantages of a mountain ewe, including the outstanding growth of the Suffolk Sheep ram. The Suffolk variety is as well, more resistant to elf fire, an infection caused due to eating, among other breeds, the bog asphodel. Sunlight makes the condition worse, but the ears and the black head of the Suffolk Sheep breed restrict the sunlight down to the other parts of the exposed skin.

Features of Suffolk Sheep

The weight of the mature Suffolk rams ranges from 250 to 350 pounds (114 to 158.8 kg), whereas the weight of the ewes ranges from 180 to 250 pounds (81.6 to 114 kg). Fleece weights from grown-up ewes range between five and eight pounds (2.3 to 3.6 kg), with a yield of 50 to 62 percent. The fleeces have a medium type of wool, and the diameter of the fiber ranges from 25.5 microns to 33 microns, with a spinning count of 48 to 58. The Suffolk Sheep have black legs and faces, a big frame, and are extremely muscular. The Suffolk Sheep staple length ranges from 2 to 3 1/2 inches (5 to 8.9 cm).

Suffolk Sheep breeds are adapted to all environments. The Suffolk Sheep breeds thrive in damp conditions with its solid black feet, having resistance to foot infections. The Suffolk Sheep breed also performs well in the arid regions where the lofty fertility rams effort well even in hot summer months. The average lifespan of the Suffolk sheep ranges from 11 years to 13 years.

Some Sheep Fact about Suffolk Sheeps

In the world there are over 1 billion sheep and China has the most sheep in the world. A "flock or herd" is a group of Suffolk Sheep. "Lamb" is the name of a young Suffolk Sheep and it is called a sheep or "hogget" at one year old. "Ewe" is the name of the female Suffolk Sheep. "Ram" is the name of the adult male Suffolk Sheep. "Wether" is an adult castrated male sheep. The act of breeding for Suffolk Sheep is called "tubing". Suffolk Sheep give birth to 1 to 3 baby lambs once or twice a year. "lambing" is the act of giving birth for sheep. A lamb weighs on average when born, about 5 to 8 pounds (2.2 to 3.6 kg). Sheep are born without or with horns (polled). The high pitched sound a baby lamb makes is called "bleating". The length of a pregnancy (gestation period) for a Suffolk Sheep is about 145 to 156 days.

Milk from Sheep is mostly used to make gourmet cheese. A Suffolk Sheep has an average body temperature of about 102.5˚F (39.1˚ Cel).
A lambs is usually sold on average for meat between 90 to 120 pounds (41 to 54.4 kg). "Mutton" is the name of the meat from a full grown Suffolk Sheep. There is a split in the sheep upper lip which allows them to select their favorite leaves off a plant. A Suffolk Sheep has a life expectancy between 6 1/2 to 11 years. Milk from sheep has a higher level of zinc, calcium, protein, fat, riboflavin, thiamine and niacin than milk from cows or a goat.
A Suffolk Sheep is a herbivores, that eats leaves, grass, hay and furns. A Suffolk Sheep has four chambers to its digestive system that helps break down what they eat. Suffolk Sheep are "Ruminant" is any hoofed even-toed, mammal that digests its food in two stages. First by eating the raw materials and regurgitating a semi-digested form known as "cud" (ruminating: chewing the cud.) then eating the cud.

Suffolk Sheep have a 300 degrees field of vision and sheep do not have to turn their head to see behind them and they have excellent hearing. Sheep have long been used to control unwanted vegetation. Shelter is not necessary in the rain but Suffolk Sheep do seek shade from the sun. There are over 900 different sheep breeds in the world and 40 different breeds of sheep in the United States. A Suffolk Sheep does not have teeth in their upper front jaw. Suffolk Sheep have 32 teeth. Suffolk Sheep have 24 molars and 8 incisors in their mouth. A Suffolk Sheep has only lower teeth that press against an upper palette.
Search the Web for More information on Suffolk Sheep at LookSeek.com Search