Back To Category Annual
Title :
Snapdragons Flower Plant
Category: Annual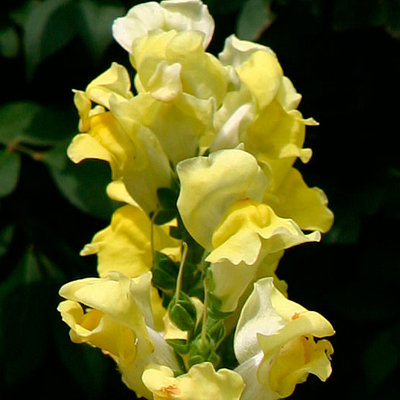 Facts about Dragon Flower (Plant)-Snapdragon Flowers "Scientific name for Snapdragon Flower is Antirrhinum majus". The Snapdragon Flower (Plant) comes from the genus snapdragon which is are annual cold-season plant and are morphologically diverse with the plant species resembling the face of a dragon, opening and closing when laterally touched.

The Snapdragon Plant originates from the rocky areas of North Africa, United States and Europe. The Snapdragon Flower (Plant) varieties can establish to different heights depending on the conditions and area of establishment. Generally, tall varieties can reach a height of up thirty to forty eight inches (76.2 to 121.9 cm) and are usually less bushy. The medium sized Snapdragon Flower (Plant) grow to a height of about fifteen to thirty inches (38 to 76 cm) with the dwarf varieties only reaching six to eight inches (15 to 20 cm) tall.

The snapdragon flower plant produces green foliage with lanceolate, alternate leaves which are arranged in a spiral around the entire stem of the plant. The The Snapdragon Flower (Plant) stocks have brightly colored flowers which become profuse during cold weather. The blooms are produced from the base of the stock towards the upper branching and are usually of different colors but true blue.

The The Snapdragon Flower (Plant) blooms robustly in the first year of growth with a less blooms in the subsequent years. The flowers are able to open their mouths when touched or pressed from sides and remains shut unless enough pressure is used to open them. This is the reason why the common honey bees do not help in pollination of the The Snapdragon Flower (Plant). The The Snapdragon Flower (Plant) seed pods are produced in their first year of development. However, the heavy bumble bees are known to help in its pollination. It is important to note that, all the parts of the plant are poisonous.

The Snapdragon Flower (Plant) are perennials plants which do well in USDA zones of eight to nine. However, in many areas where they are established, they are usually grown as annual plants. The The Snapdragon Flower (Plant) requires well-drained soils and in full sun. However, they can also establish in partial sun.

Snapdragon flower plants are bushy perennials with tall spiked flower buds which are greatly colored making them real standouts in the gardens.
Search the Web for More information on Snapdragons Flower Plant at LookSeek.com Search