Back To Category Garden Vegetable Plants
Title :
Radish
Category: Garden Vegetable Plants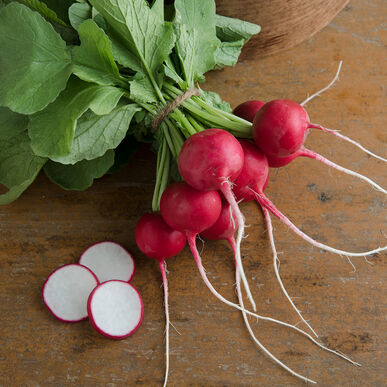 Facts About Radishes. "Scientific name for Radish is Raphanus sativus". When thinking about radishes most people think of the small round red vegetable that is a little spicy or hot. But there is much more to the radish that meets the eye, or mouth for that matter.

History of the Radish

Their is some disagreement as to where the radish originated. Very early texts indicate they were from ancient China, but Greece and Egypt also lay claim to early cultivation. Small round radishes were cultivated by the Dutch. Although evidence exists to show several of the world may have grown the first radishes,today they have traveled worldwide. Almost every nation grow and use radishes

Types of Radishes

The two basic types of radishes are Spring and Winter radishes, with varieties falling under one of those two. Spring radishes have many brand names,such as Cherry Bomb, but usually they are the red round type of radish. Winter radishes, for example the dikon radish,are long and generally white in color. Winter radishes tend to last longer and have a deeper flavor.

Growing Radishes

Growing radishes isn't that difficult. Radishes are a root crop which means the edible bulb or tubular shaped radishes grow underground like potatoes. For Spring radishes plant in very early spring. Choose an area that gets six hours of sun a day. Till the soil or use a hoe to work the soil about seven inches (18 cm) deep. This isn't to make holes but rather loosen the soil which should drain well, before planting. Now every few inches apart plant the seeds about an inch and a half (3.8 cm) deep. Radishes grow in about a month, so in about two weeks plant more and continue doing so. Switch over to winter varieties when late summer arrives. Plant different types and you'll be harvesting a variety from spring throughout the winter. One main thing to remember is that radishes do not do well in high heat plus if you leave them in the ground too long they get tough and too pithy or woody (full of holes) to eat. Additionally if left too long before harvesting they lose flavor.

Uses of a Radish

People generally eat radishes in salads only but you can be much more adventurous. Cookbooks, especially online ones are filled with a slew of cooked radish dishes you can try. Plus the leaves add a peppery taste to your salads and are completely safe to eat.
Search the Web for More information on Radish at LookSeek.com Search