Back To Category Gold Fish
Title :
Pompom Goldfish Raising and Caring
Category: Gold Fish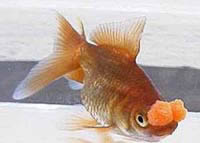 Their diet is that of Omnivore. The Pompom goldfish diet consists of flakes, pellets, live food, worms, fruit and veggies. Adult size is about 6-8" (inches). The lifespan is about 10-15 years or more. With a collection of fleshy growth balls which are enlargements of the nasal septum that look like a cheerleader's pom poms where the name comes from.
These goldfish have many different names ( "Velvet Ball", "Pom pon", and "Pon Pon" ), and the most common one is just ( Pompom ). Most of the time the Pompom categorized as a dorsal variety.
Pompom generally has fins similar to a fantail and a body type of the Pompom goldfish are very similar to the Lionhead. It has an egg-shaped body that has a twin-tail fins and a double anal fin. All fins should be paired, the Caudal fin should be fully divided and forked. All fins should have a rounded appearance. The most unique feature is its fleshy nasal outgrowths. They have a huge round puffy ball-like formation in front of each eye. They call these "nasal lobes" or "nasal bouquets". The goldfish is named Pom Pom in English, because they look like cheerleaders pompoms on the front of thier nose. The nasal bouquets are not as delicate as they appear. The nasal bouquets mostly don't interfere with the fish's vision, they can compete reasonably well for food ( as well as Telescopes, Orandas, Dragonheads and Lionhead ). As with other Goldfish breeds, color saturation of the fins is desired. Pompoms come all different colors that are available with all other breeds. Calico and Mottled Pompoms should match the coloration mix of the body of this fish. This cute goldfish is available in many colors including yellow, orange, black, white or silver and blue, classic goldfish orange, orange and white, orange and black, white and red, metallic bronze, calico and chocolate (a lightish brown.) New color variations and patterns are continually being breed every day. Sometimes the nasal bouquets are a slightly different color than the rest of the Pompom. The minimum Aquarium is 20 Gallons. You will need to purchase a liquid test so that you can test for Nitrates and Ammonia in your tank. Avoid the strip-style test kits they are unreliable and a waste of money. You should use a dechlorinating product to remove the harmful chlorine from the water. Test for nitrite, ammonia, and proper PH. Water Conditions should be 65-75 Fahrenheit but can with stand colder water, KH 4-20, pH 6.5-7.5. The ammonia should always be 0, and the nitrate should be below 20. If it's at or above 40, you have too many fish or are not changing the water often enough.
Doing weekly water changes, once a week, remove and replace 30%-50% of the water in Pompom goldfish tank. Perform a thorough gravel cleaning once every 2 weeks or so. You need to use a gravel vac which vacs up debris while removing water and cycling it back to your tank. With tropical aquariums, it is often recommended that you do this once a month, but with goldfish (who produce an absurd amount of waste) you will need to do this as frequently as you can. Once a week, once every two weeks at a minimum. Removing all the water from the tank will damage the bacteria that has grown that helps decompose the fish waste.
The Pompom Goldfish makes a lot of waste, and should be feed several times a day in small portion, the gold fish doesn't have a stomach that is why you should not over feed, they should not be kept in less than 20 gallons of water. 20 gallons must be the least amount, and the more room you can provide your Pompom Goldfish with, the better the fish will live. You should make Filter intake tubes covered in aquarium sponge or something comparable to the sponge.
You need the proper filter. Goldfish create a lot of waste and are known for being messy. your filter should completely clean the water at least ten times an hour. If you have a twenty gallon tank, you will need a filter that can handle the waste of at least 200 gallons per hour. A filter that cleans more than ten times the amount of water in the tank is more than adequate.
Get coffee bean sized gravel for the bottom of the tank (if it is any smaller the goldfish could accidentally swallow some while feeding). Make sure any rocks or gravel are metal-free, since rocks with metals can harm fish by leaching toxic residues into the surrounding water.
To decorate your tank, Buy a few ornaments and decorations and fake plants or real plants are beneficial because they help absorb some of the ammonia, nitrites and nitrates that accumulates in the aquarium because of waste from your gold fish. Do not buy ornaments with openings small enough that the fish can get stuck in them. Remember to consider how large your goldfish can get. Try using fluorescent lights for your goldfish. Halogen lights and incandescent lights will also do. Look at how much light you give your Pompoms, goldfish love light.
Cycling your tank is important, Follow the steps to cycle your tank. This establishes healthy bacterial and chemical levels.
When buying your Pompom goldfish see which ones look like the healthier ones. Be wary of tanks with dead fish in them, as this can be a sign of illness or improper care. In addition, healthy fish will have no white spots, swim with their fins held upright, Have a nice rich color or colors. Not be afraid of people, Swim around all over the tank and look healthy. Add the Pompom goldfish to the tank. It is important to introduce the fish to the tank environment slowly. As soon as you get home, float the entire, closed pet store bag (with the Pompom goldfish inside!) in the tank for about half hour. This will allow the water in the plastic bag and the fish is in to equal out to the same temperature as your tank. Next, add a small amount of water from your tank to the bag, and wait about 15 minutes. Do this at least one more time. Dispose of the water down a drain or outside. Then, use a net to transfer the Pompom goldfish fish carefully into the your tank. Dispose of all of the water in the bag. This process not only reduces stress for you fish, it also prevents the dirty pet store water from contaminating your tank. Clamped fins are a sign of illness.
Search the Web for More information on Pompom Goldfish Raising and Caring at LookSeek.com Search