Back To Category Bees
Title :
Orchid bee
Category: Bees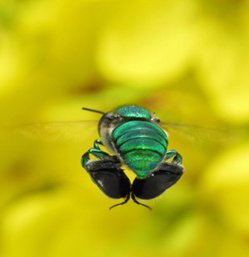 Facts about Orchid bees, "Scientific name for Orchid bee is Apidae euglossini". The Orchid bee is also known as Euglossine bees that belong to the tribe Euglossini and in subfamily Apinae. Euglossa is the largest orchid bee genus and the parasitic orchid bees are further classified under genus Exaraete. They are also known as gold bee and have over 200 species. Orchid bees are majorly found in western hemisphere in the subtropical and tropical regions ranging from Argentina to northern Mexico. Most species of the Orchid bees collect pollen, nectar and other various substances from the orchids.

Orchid Bees Physical Description

Orchid bees are considered to be among the most vividly colored insects. Most of its species are purple, blue, green, red, or gold in color. Some of them are black with white or yellow hairs and often resemble the bumble bees.

The orchid bees will range from 1/4 to 1 inch (8 to 30mm) in length. Some species have tongues twice the size of their body that enables them to get to the nectar in the deep-throated tropical flowers.

Orchid Bees Characteristics

The orchid bees are known to be fast and strong fliers and they can travel lengthy distances. Some are believed to fly distances of up to 30 miles (50km) searching for flowers. The orchid bees drink energy to supplement its body with energy.

Fragrance collection

Fragrance collection is definitely one of the unique features of the orchid bees. The male are attracted to orchid and has unique legs that are modified to enable the bee collect and store various volatile compounds from orchids throughout their lifetime.

The male orchid bee is quite easy to observe as they are mainly attracted to fragrant items, unlike the females that are less attracted and are rarely seen.

Orchid bees are believed to be very good pollinating agents and display quite interesting foraging characters. Trap-lining is a behavior where the bees forage on particular plants along set routes.

Nesting

Nests of only a few orchid bees have been observed. The orchid bees construct their nests in cavities in the wood, in bamboo stems, on house roofs, under bridges and the rocks in crevices, under palm leaves, in the ground, in termite nests, and in fern roots.

The female orchid bees collect resin that is used to line the nests; at night some species are known to cover the entrance of the nest with resin. Some of the nests are made of bark or wood chips and mixed with resin. They will also gather nectar and pollen as food and might also use mud and other materials to build their nests.

Many of the orchid bee species will nest in groups. Though some nests can be shared by various individuals, each female will construct her brood cells. Different generation can use the nest continuously.
Orchid bees fall in the classification of insects with six legs. Orchid bees have five eyes; three tiny ocelli eyes and two compound eyes.
The Orchid bees have four stages of life, Eggs, Larvae, Pupae and Full grown Bee.

It is clear that the orchid bees in a specific genus don't have the ability to create their nests. Normally, they will parasitize "infest or exploit (an organism or part) as a parasite" nests of the other orchid bee species. And they are not the only parasite that can be found in the nests, other type of insects can also be seen in orchid bee nest, including; blister beetles, velvet ants, and other type of parasitic bees.
There are three types of bees in the Orchid bee hive, a Drone, Worker and the Queen. A worker bee will die if she uses her stinger.
The hind legs of the Orchid bees carry pollen in them and it is called a pollen baskets. Pollen is the protein for which the baby bee needs to grow.
A Orchid bee has two stomachs, the first stomach is for eating and the other stomach is specially designed for storing nectar collected from flowers and water, for making it possible to carry it back to the hive.
Search the Web for More information on Orchid bee at LookSeek.com Search