Back To Category Freshwater Fishing
Title :
Largemouth Bass Fish
Category: Freshwater Fishing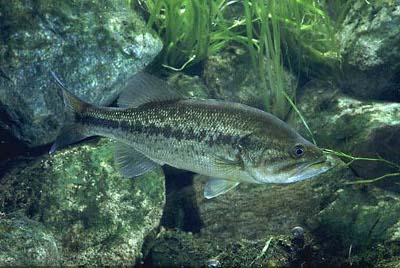 Facts about Largemouth Bass Fish, "Scientific name for Largemouth Bass fish Micropterus salmoides-a largemouth bass-the angle of the jaw falls behind the eye). The Largemouth is actually a member of the sunfish family.
Other names that the Largemouth Bass are called Black bass, bigmouth bass, green bass, brown bass, widemouth bass, bucketmouth, Potter's fish, Florida largemouth, green trout, gilsdorf bass, linesides, Oswego bass, southern largemouth.
Largemouth bass will often be called "black bass" mostly this is a lable for an entire genus of bass of which the largemouth are the largest of the species. Smallmouth, red-eye bass and spotted are the other most common species in this family.
The largemouth bass, a member of the sunfish family, is one of the most popular freshwater sporting pond and lake fish. Largemouth bass can be found as far up as southern Canada to as far south as Mexico. These are native to North America, but now you can find them all over the world due to fish stocking. scientific study, as with their close relative the smallmouth bass, you will find the Largemouth Bass in the deepest water in their area, but when feeding they will come up higher in the lakes or ponds.
The largemouth Bass can be recognized most easily from other species by its mouth, where it gets its name, which extends past the rear of its eye when closed. There is also a distinct dip between the first and second dorsal fins. The Largemouth Bass have a horizontal black stripe that kind of looks like a child painted it all broken. They are dark olive green on the back that transitions to white on the belly. They will vary in their color due to their environment and if they are spawning. Females are the larger of the sex, it is nearly impossible to tell the difference between male and female. During the spawning season, if the fish is gently "whitish" toward the anal opening, either sperm or eggs may be noticeable. That is about the only way to tell the female from males. Most of the time if the bass is greater than 8 or 10 pounds, it is a female.
After the Largemouth Bass encounters a artificial lure the bass will sometimes avoid that particular style of lure for the rest of its life.
The bass hear with internal ears located within the skull. They can see very good in all directions except directly below them or right behind themselves. In most waters bass usually see between 10 and 20 feet. They can also see objects that are above the water. Especially you standing in your boat with that brightly colored shirt on. So wear a dark colored shirt when fishing for Largemouth Bass
In one study red and white lures caught 3 times as many Largemouths Bass as any other color.
Like most fish Largemouth Bass prefer to hang out in shaded areas. They find better camouflage in shady areas or in darker places. The bass have a high tolerance to warm water with low oxygen, which give them an ability to come closer to the shore then other fish and take advantage of the food that's available such as bigger insects, mice, frogs, snakes, crickets. If the bass are really feeding heavily, they will come out of the weed line to hunt down minnows.
Crankbaits, small fish or bugs, can work very well at times because you can cover a lot of water in a very short period of time. They also come in different varieties from ones that float to ones that float and rest but dive on the retrieve, and the vibrating plugs that sinks.
A spinnerbait is a flashy lure that attracts bass with its spine action and color. It is a combination of two types of lures, the jig and the spinner. You can use it in two different ways from spinning it across top water down about two feet to crawling it across the bottom of the pond/lake. The pull and drop technique will sometimes work well with this lure.
Surface Lures for Bass Fishing some the different ones are, the buzzbaits, stickbaits, propeller-type plugs, poppers, topwater crawlers, artificial frogs and surface wobblers. They are very effective for fish that are hiding out in very thick cover and are also good for night fishing.
Bass Fishing Jigs are the lead-head jig that has hair, rubber skirts, feathers, or plastic attractors on them. They can be tipped with live bait. They can be pulled in with a slow even motion along the bottom or just simply pulled up and down.
Jigging spoons are minnow fish look alike and plan silver look alike ones are made of heavy metal and are used mostly in cold water conditions. The vibrating blades are made of thin metal and can be used for trolling. They are jigged vertically or pulled on very rapidly jolts. The Tailspins are heavy lead bodies and a spinner on the tail. They work best for vertical jigging.
Bass Fishing Spoon Plug work best when trolled along weeds along the water edge not to deep.
Bass Fishing Spinner Lures have one or more blades that rotate on a steel shaft.
Bass Fishing Metal spoon lures are among the oldest artificial lures. They can be made almost weedless and retrieved Jigging spoons are most used by an experienced bass fishermen. They work well in very deep water.
Bass Fishing with Live Bait NightCrawlers, crayfish, frogs, and minnows are among the mostly used live bait. Largemouth Bass are more likely to strike on live bait at certain times of the year and in very clear water the live bait will be a lot more effective than anything artificial.
Search the Web for More information on Largemouth Bass Fish at LookSeek.com Search