Back To Category Wolf
Title :
Gray Wolf
Category: Wolf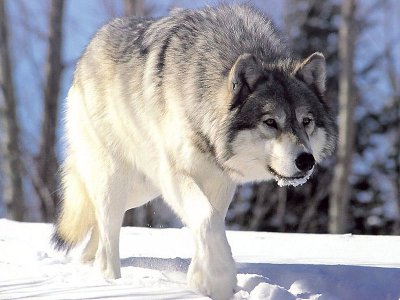 Facts about Gray Wolf, "Scientific name for Gray Wolf is Canis lupus". The Gray wolf is one of the largest existing wild member of the family Canidae. It is also known as true wolf, western wolf or timber wolf.

Gray wolf is a carnivore, native to the remote area of Eurasia, North Africa and North America. Gray Wolf has bushy, long fur, and is gray color. This fur is longer on the back, shoulders and chest. This does not mean that you can't find other colors of Gray Wolfs because there are pure whites, red or black that exists.

Gray wolves have a broader snout, short ears, short torso and a long tail. Though slender, it is very powerful with a slope like back and a heavy neck. If you compare Gray Wolfs legs with other canids, you will discover that they are longer. That's why it is known to move fast and swiftly especially on the snow. In fact Gray Wolf has an average speed of 37 miles per hour (60 km per hour).

The male weighs around 95 to 99 pounds (43 to 45 kg), whereas the female weighs 79 to 85 pounds (36 to 38.5 kg). This weight is believed to vary according to the geographical features. The difference in size is also seen in the body features. You will discover that the female Gray Wolf has a narrow muzzle and forehead, thinner neck and shorter legs than the male wolf. Among other canis species, Gray Wolf is differentiated by its large size and less pointed features especially on the muzzle and the ears.

In overall features, gray wolves have wider heads and foreheads as well as ears that are small and triangular. The Gray Wolfs teeth too are large and are very good for chewing bones. This takes us to its diet. Gray Wolf can eat very big mammals using its strong teeth that have a very big chewing force.

The gray wolf was once identified as one of the most distributed mammal living in the Northern part of America and India. But recently Gray Wolf has been threatened by humans who have destroyed it fearing attacks. This has made gray wolf scarce and the competition for livestock with humans has made it even worse. People kill Gray Wolf for fear of attacks on their livestock. Despite all this, it was the first wolf to be domesticated by human beings.

The gray wolf has very unique facts compared to any other canis member. canis is one of the most researched wolves by numerous researchers writing different books about its origin and other features.

In addition to that, Gray Wolf is one of the most developed members of the genus canis. It is known to hunt big prey and has a very good expressive behavior. Gray Wolf is a social animal that has a mated pair. Mostly the family of gray wolves consist around 5 to 11 animals which are adults, juveniles and yearlings. The highest ranking in the family is called the "alpha pair." Gray wolves how, uses various whines, growles, yelps, and barks to help keep the pack together. A lone Gray Wolf will give a beautiful and haunting howl when separated from the pack.

The mated pair may produce yearly in normal circumstances. The Gray Wolf are monogamous and practice that until death.

The young Gray Wolfs stay in the family for around 10 months before dispersing. They travel to long distance to form their own families. Adopting in wolves family is not very much practiced. This is because the Gray Wolf fear that the strangers may invade their territory and demand breeding rights. In cases where adoption is considered, they take the young Gray Wolfs probably under three years.
Search the Web for More information on Gray Wolf at LookSeek.com Search