Back To Category Gibbons
Title :
Gibbon Ape
Category: Gibbons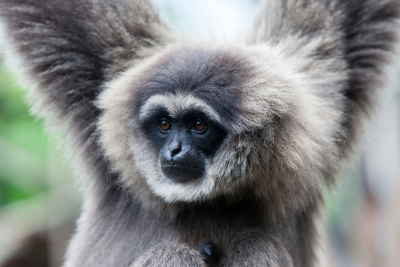 Facts about Gibbon Apes. "Scientific name for Gibbon Ape is Hylobatidae". Gibbon is an ape that belongs to the genus Hylobates of the Hylobatidae family. The Gibbon Ape are native to Southeast Asia and they largely live in tropical and subtropical forests, ranging from the northeast parts of India to Indonesia and the northern parts of southern China, as well as in the islands of Borneo, Sumatra and Java. These animals are slim, elongated-armed, tree-lodging apes. They are also called as the lesser apes, and they differ greatly from big-size apes, such as gorillas, chimpanzees, orangutans, humans and Bonobos.

Features of Gibbon Ape

The Gibbon Ape is an uncommon, small-size animal, in which the males are somewhat bigger than the females. Usually, a male Gibbon Ape has the maximum body length of 3 feet (90 cm) and has a body mass of 15 pounds (7 kg).

The body color of the Gibbon Ape varies from dark to light tan shades, according to their sex and variety. Depending on species and sex, the color of the fur of the Gibbon Ape from dark to light brown shades, and anywhere between white and black. It is uncommon to see an entirely white color gibbon. The Gibbon Ape boast a hairless face with small nostrils, dark eyes and jet-black color skin.

Being a smaller animal, the Gibbon Ape show a low sexual dimorphism. They do not construct nests, and in certain anatomical facts they apparently look like monkeys than huge apes do. However, similar to all apes, the gibbon ape evolved to turn out to be tailless. They also exhibit pair-bonding, contrasting the majority of the big apes.

The Gibbon Ape is a master of its key mode of brachiation, locomotion, swinging between branches for a maximum distance of 50 feet (15 m), at a very high speed of 55 kilometers per hour (34 miles per hour). The Gibbon Ape can as well make jumps up to 26 feet (8 m), and march bipedally through their raised arms for balance. They are the most agile and the fastest of all non-flying, tree-dwelling animals.

Diet of Gibbon Ape

The Gibbon Ape is an omnivorous animal and it mostly feeds on meat and plants. During the daytime, they forage for food in the woodlands, feeding on fruits, which constitutes 75 percent of their diet, flowers, leaves, seeds, tender plant shoots and tree bark. The Gibbon Ape also feed on insects, bird eggs, spiders and small birds.

Behavior of Gibbon Ape

Gibbon is a diurnal animal, which is active during the daytime. The Gibbon Ape live in undersized, established family groups that consist of a mated couple and their undeveloped offspring that are below 7 years old, Similar to other apes, the Gibbon grooms each other.

Not like other apes, the Gibbon Ape does not construct sleeping nests. They just sleep unaccompanied or with some gibbons huddled jointly, in a junction between tree branches. The Gibbon Ape use to sleep by sitting erect, relaxing on tough pads situated on their back ends

The Gibbon Ape drinks water habitually by dipping a hairy hand into the water or rubbing its hand on the damp leaves, and then gulping up the water from the hair. The Gibbon Ape occasionally do this while hanging above the water from a slender tree branch.

The average lifespan of the Gibbon Ape ranges from 35 years to 40 years.
Search the Web for More information on Gibbon Ape at LookSeek.com Search