Back To Category Marsupial
Title :
Dunnarts
Category: Marsupial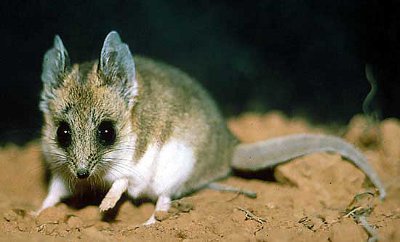 Facts about Dunnarts. "Scientific name for Dunnart marsupial is Sminthopsis". Dunnarts are narrow-footed, furry marsupials which are almost the size of mice. The dunnarts are mainly insectivorous. Male dunnart are known to have the smallest Y-chromosome known in the mammalian class. The Dunnarts are slender muzzles with large round ears and bulging eyes. They are mostly whitish-grey underneath and slate grey above, with dark grey patches around the flanks, head and neck. In addition, the Dunnarts have intermittent hair on their tails such that they are almost covered with scales.

The common dunnart Sminthopsis, although not that very popular as the name suggests, is a nocturnal carnivore. However, durnnarts are known to be insectivorous, feeding on a wide variety of insects. Their food mostly includes cricket larvae, roaches, spiders and beetles.

The popularly known dunnarts are known to inhabit the mallee heath and the dry sclerophyll forest which includes the open heath land areas in the west and north of Victoria's woodlands and the southern Victorian forests.

It is important to also note that dunnarts are likely to be found in areas of microhabitats that may be structurally complex as they prefer rock crevices and logs. During the day, they make nests using dry grass inside log hollows.

Very little is known about the population and distribution of the dunnarts especially in areas such as Victoria where little attention is given to the species. The common dunnarts in Victoria occupies the much drier areas. However, the white-footed dunnart is known to habitat the southern areas.

Female dunnarts are known to have several reproductive cycles throughout their breeding season enabling them to mate upon the weaning of their first litter. They can produce to a maximum of two litters of eight to ten young dunnarts per year.

The gestation for dunnarts is known to be twelve days. The male dunnarts may survive after breeding but die sooner or later. They don't usually live to breed for a second year.
Search the Web for More information on Dunnarts at LookSeek.com Search