Back To Category Aquarium Fish Other
Title :
Clown Barb
Category: Aquarium Fish Other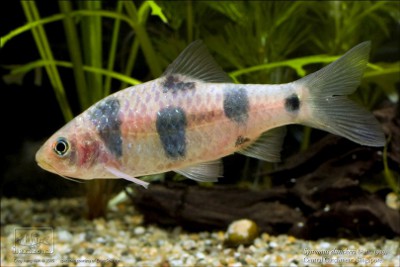 Clown Barb Freshwater is a variety of fish that belongs to the Cyprinidae family and is native to Southeast Asia. These fish breeds are extremely active, elegant varieties that are supposed to be maintained with analogous-size fish varieties. It is supposed to be maintained in a big aquarium with a minimum capacity of 50 gallons, which is thickly planted on the sides of the aquarium and in the back part with bunches of plants, like Myriophyllum or other analogous bushy type of plants, either artificial or live. This fish variety needs an abundance of hiding places in the shape of driftwood, rocks or PVC piping.

Features

The Clown Barb Freshwater is a medium-size fish variety with the body length ranging from 4 inches to 5 inches. These fish mostly prefer the warm water environment, with the temperature ranging from 76 degrees Fahrenheit to 84 degrees Fahrenheit.

Diet

Although the Clown Barb Freshwater fish is not a firm vegetarian, it will destroy any soft plants. Similar to most barb varieties, this fish breed is considered omnivorous and will feed on about anything that suits its mouth. They used to feed on a diverse diet that consists of freeze-dried, vegetable-based flake and frozen foods, complemented with little live foods, such as glass worms, bloodworms, brine shrimp, Daphnia and Tubifex worms. If sufficient amounts of vegetable food such as zucchini and parboiled lettuce are not found, the fish may feed on any existing plants in the environment.

Reproduction

The Clown Barb Freshwater fish variety is easy to spawn provided that both genders have been well conditioned and the male breed is mature enough, typically they are matured after one and a half year or more. While in captive, both the genders of these fish breeds are separated and nourish heavily for four weeks before spawning. Male breeds are inclined to be brighter in color than the female breeds and rather slimmer during reproduction. The female fish breed will disperse their small eggs among the plants.

The average lifespan of the Clown Barb Freshwater fish is 6 years.
Search the Web for More information on Clown Barb at LookSeek.com Search