Back To Category Food & Culinary
Title :Chicken and Rice
Category: Food & Culinary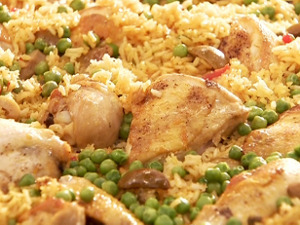 Chicken and Rice
Ingredients
1 cup uncooked white rice
1 (10.75 ounce) can condensed cream of chicken soup
1 7/8 cups water
1 (1 ounce) package dry onion soup mix
4 skinless, boneless chicken breast halves
Directions
1 Preheat oven to 350 degrees F
2 Spread rice in the bottom of a 9x13 inch baking dish.
3 Rinse chicken and arrange chicken pieces on top of rice.
4 Mix soup and water together and pour over chicken and rice.
5 Sprinkle dry onion soup mix on top.
6 Cover and seal TIGHTLY with foil.
7 Bake in the preheated oven for 1 to 1 1/2 hours. Enjoy!
---
Ingredients
2 (14 1/2-ounce) can green beans, drained and rinsed
3 cups diced cooked chicken
1 medium onion, diced and sauteed
1 (4-ounce) can pimentos, drained
1 (10 3/4-ounce) can condensed cream of celery soup
1 cup mayonnaise
1 (6-ounce) box long-grain and wild rice, cooked according to package directions
1 cup grated sharp Cheddar
Pinch salt
Directions
Preheat oven to 350 degrees F.
1 Mix all ingredients together and pour into a greased 3-quart casserole dish.
2 Bake for 20 to 25 minutes or until bubbly.
Search the Web for More information on Chicken and Rice at LookSeek.com Search