Back To Category Shark
Title :
Bluntnose Sixgill Shark
Category: Shark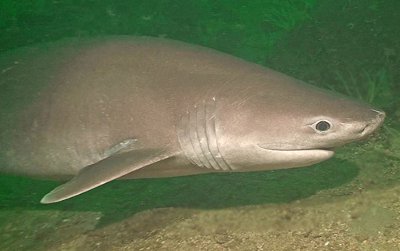 Facts about Bluntnose Sixgill Shark, "Scientfic name for is Bluntnose Sixgill Shark is Hexanchus griseus". The Bluntnose Sixgill Shark is a primitive fish that belongs to the family Hexanchus ("cow sharks"). These predators prefer the deep waters and are distinguished by; six pairs of gill slits that are on each side of the road head, their yellow lower teeth, and a very long tail. Other common names that are used to refer to the Bluntnose Sixgill Sharks include; bull dog shark, grey shark, gray shark, mud shark, sixgill shark, sixgill cow shark, sixgilled shark, bull shark, Atlantic mud shark, and brown shark.

Physical Description of Bluntnose Sixgill Sharks

Bluntnose Sixgill Shark is definitely the largest compared to the sixgill species counter part, and is also considered to be one of the largest sharks in the world. It has a round blunt snout. It has one dorsal fin unlike other species that contain two dorsal fins. The Bluntnose Sixgill Shark has a dark skin color ranging from black to grayish brown on the back, and fading towards its lighter belly. With time the Bluntnose Sixgill Shark develop bright greenish eyes.

Habitat and Range of Bluntnose Sixgill Sharks

Bluntnose Sixgill Shark is one of the widest ranging sharks in the world. The Sixgill shark occurs on island and continental shelves in tropical and temperate seas across the world. Although its distribution is somewhat patchy in the Atlantic, Pacific, and Indian oceans it is considered to be a highly migratory species.

The Bluntnose Sixgill Shark prefer deep-waters ranging below 300 ft (91.44 meters)) though they can also be found at least 6,500 ft (1981 meters) from the surface. At day time the Bluntnose Sixgill Shark rest at the bottom of the sea, and they will move close to the surface at night for feeding purposes.

Feeding Characteristics of Bluntnose Sixgill Sharks

Bluntnose Sixgill Sharks are strong predators. The adults tend to be very sensitive and they will become distressed when exposed to light. In consideration to such they will prefer to spend their day in dark depths. The Bluntnose Sixgill Shark feed on a large variety of prey items that will be ambushed at close range. Bluntnose sixgill Shark diet includes; rays, skates, sharks also invertebrates such as shrimp, sea cucumber, squids and crabs.

Despite its great appetite for flesh, the Bluntnose Sixgill Sharks is not known for preying on humans But also tolerates their presence.
There are over 400 types of sharks, Sharks have the most powerful jaws on on earth. Bluntnose Sixgill Sharks jaws, both the upper and lower jaws move. Bluntnose Sixgill Sharks skin is made of denticles instead of scales like other fish. The denticles are constructed like hard, sharp teeth (tooth-like projection) and this helps to protect the Bluntnose Sixgill Shark from being injury. The Bluntnose Sixgill Shark is carnivores, meaning: an animal that feeds on flesh (Meat). "Scientific name for Shark Selachimorpha"
"Fear of Sharks Selachophobia".
Search the Web for More information on Bluntnose Sixgill Shark at LookSeek.com Search