Back To Category Aquarium Fish Other
Title :
Barnacle Blenny (Acanthemblemaria macrospilus)
Category: Aquarium Fish Other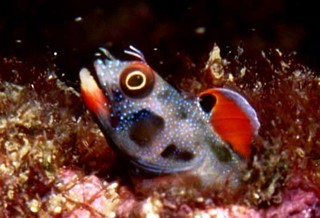 Barnacle Blenny is a variety of fish that comes from the Blenniidae family. This fish breed is a native to South America and is also called by other names, such as the Tube Blenny and the Mexican Barnacle Blenny. These fish are largely found along the mainland Pacific Coast of Mexico and the southern half of the Gulf of California. When bred in an aquarium, a tank with a minimum capacity of 10 gallons is quite sufficient to maintain them, with the water temperature, ranging from 72 degree Fahrenheit to 78 degree Fahrenheit.

Features

The Barnacle Blenny breed is a small, nonviolent fish, with a body length of 2 inches. Its body color is a mottled white, black and red, covering the fins and the body. This fish variety can be distinguished from other fish varieties of the family by observing the dorsal fin that will have red, pink or orange coloration on the initial third of the dorsal fin and the bottom of its dorsal fin will contain a black-colored band or spot that cannot be seen in other fish varieties.

Barnacle Blenny breeds prefer well-planted aquarium with many hiding places and an abundance of rocks for sheltering and hiding purposes. It is an extremely amusing fish, as they swim as furious and fast as possible to grab the food from the water line while attempting not to be consumed by the other fish. The body of Barnacle Blenny breed is rarely seen because they will assume habitation in a small gap in the rocks. They are an extremely attentive fish that continuously observes the aquarium, expecting a meal to arrive at their way. This fish breed performs well in well-furnished aquariums with huge numbers of gaps in the rocks in which it can conceal.

Diet

Barnacle Blenny fish varieties are carnivores, and in the aquarium, they are fed with meaty foods, such as delicately cut crustacean flesh, vitamin-rich frozen shrimp and brine.

The Barnacle Blenny fish breed is one of the shortest surviving fish varieties in its family, with an average life span that ranges from 1.5 years to 2 years.
Search the Web for More information on Barnacle Blenny (Acanthemblemaria macrospilus) at LookSeek.com Search