Back To Category Aquarium Fish Other
Title :
Australian Pineapple Fish
Category: Aquarium Fish Other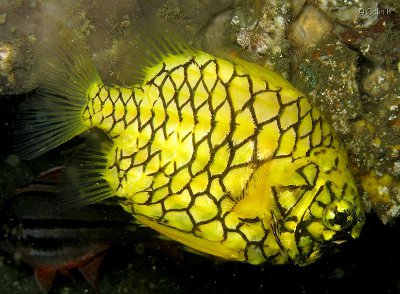 Facts about Pineapple fish. "Scientific name for Pineapple fish Cleidopus gloriamaris". The Pineapple fish is also called the Coat Of Mail Fish, Pinecone Fish or the Knight Fish. The species is recorded from the west and east coasts of Australia, but not South Australia.

Facts about Pineapple fish

Pineapple fish has an unusually perfect resemblance of the fruit after which it is named. The Pineapple fish body is encased in the tough armored scales made up of small plates, with each featuring a pointed ridge. The yellow plates have conspicuous black edges on its scales hence forming a similar network pattern as that of the pineapple. The Pineapple fish's lips are black in color. It also has small bio-luminescent bacteria on both sides of its lower jaw that beautifully produces a glow that keeps changing from green to bright-red as it matures, and is best seen during the night. The Pineapple fish uses this luminescent organ to attract microscopic prey to feed on.
When caught, they are often considered as "trash" fish. It is often found inhabiting very rocky reefs within coastal embayment and estuaries. It has also been spotted under ledges or in small caves where they coalesce in small groups. The Pineapple fish love darkness and are therefore hard to photograph.

About Aquarium of the Pineapple fish

The Pineapple Fish is well liked by very many aquarium enthusiasts, not only because of its beauty, but also due to its community nature. They are often found in schools at depths of 35 to 650 feet (10 to 200 meters). The Pineapple fish have recorded an average of 10 years living within private aquariums. These saltwater fish are also very easy to care for provided the aquarium has about 70 gallons (265 liters) with 72 to 78 F (22 to 25 cel)

Aquarium care Pineapple fish

Test the water when preparing your tank for your fish: You will need to purchase a liquid tester so that you can test for Nitrates and Ammonia. The strip-style test kits are unreliable and a waste of money. You should use a dechlorinating product to remove the harmful chlorine from the water. Test for nitrite, ammonia, and proper pH range between 8.1 and 8.4. The ammonia should always be 0, the nitrite should be 0, and the nitrate should preferably be below 20 ppm. If it's at or above 40 parts per million (ppm), you have too many fish or are not changing the water often enough. Cycling your tank is important, Follow the steps to cycle your tank. This establishes healthy bacterial and chemical levels.
Remove 30% of the water from your fish tank each month with new water, or a 15% water change every 2 weeks is ideal for keeping nitrates lower. With corals in the fish tank, then 20% water change every month, or 10% change every 2 weeks.

Diet of the Pineapple fish

The Pineapple fish feeds at night. The Pineapple fish need hiding spaces as it doesn't fancy bright lights. They are known to get along well with other peaceful fish. Pineapple fish loves to feed on feeder shrimp as well as smaller fish.
Search the Web for More information on Australian Pineapple Fish at LookSeek.com Search