Back To Category Aquarium Fish Other
Title :
Arabian Pseudochromis Fish
Category: Aquarium Fish Other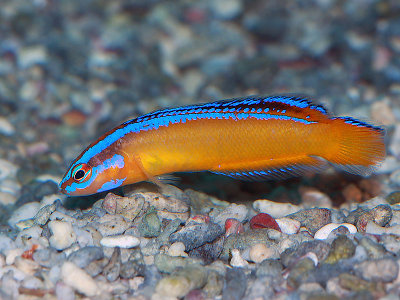 Facts about Arabian Pseudochromis fish. The Arabian Pseudochromis resides in the Red Sea.

Features of the Arabian Pseudochromis fish

The Arabian Pseudochromis fish is known to have a red or yellow colored body with blue meandering strips which runs along the top of the fish and also in the fins. However, the female species are usually thought to be drabber in their body colorization in regards to dichromatic Pseudochromis fish species.
The female Arabian Pseudochromis fish usually dominates an orange colored tail with their body having a pale brown color and hints of dusky pink. The male Pseudochromis has a midnight, soothing blue body color. The well-defined body colorization is electrified with very bright contradicting colors of gold which encompasses the lower half of the Arabian Pseudochromis fish's body and head. The polychromatic vertical barring adds the final touches to the eye-catchy male Arabian Pseudochromis fish.

Aquarium of Arabian Pseudochromis fish

Although the Arabian Pseudochromis fish is known to be one of the most inactive Pseudochromis, it is capable of defending its habitat or shelter from other intruding fish species. If you intend to keep the Arabian Pseudochromis fish, it is important that you consider placing individual fish per aquarium except for larger reef aquariums or tank aquariums of 360 gallons (1363 liters).

Aquarium care of the Arabian Pseudochromis fish

Test the water when preparing your tank for your fish: You will need to purchase a liquid tester so that you can test for Nitrates and Ammonia. The strip-style test kits are unreliable and a waste of money. You should use a dechlorinating product to remove the harmful chlorine from the water. Test for nitrite, ammonia, the alkaline pH values of 8 running to 9.5 in. The ammonia should always be 0, the nitrite should be 0, and the nitrate should preferably be below 20 ppm. If it's at or above 40 parts per million (ppm), you have too many fish or are not changing the water often enough. Cycling your tank is important, Follow the steps to cycle your tank. This establishes healthy bacterial and chemical levels.
Remove 30% of the water from your fish tank each month with new water, or a 15% water change every 2 weeks is ideal for keeping nitrates lower. With corals in the fish tank, then 20% water change every month, or 10% change every 2 weeks.
The aquarium to keep the Arabian Pseudochromis fish requires to be filled with several live rocks, caves and crevices in order to provide hiding places or places of refuge for the fish and to create separate territories for the fish. In addition, it requires to be housed with moderately aggressive large fish species.

The Arabian Pseudochromis fish can feed well on clams, bristle worms, coral and invertebrates.
Search the Web for More information on Arabian Pseudochromis Fish at LookSeek.com Search