Back To Category Snakes
Title :
Anaconda Snake
Category: Snakes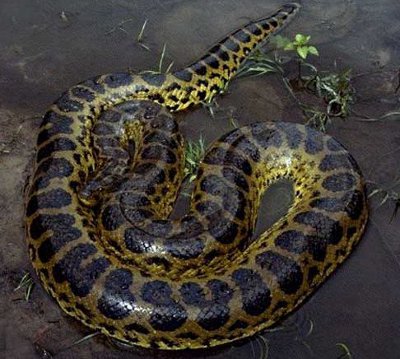 Facts about Anaconda Snakes. "Scientific name for Anaconda Snake is Eunectes murinus". Anaconda Snakes are one of the most beautiful snakes in the world. The Amazon jungles of South America and flooded Pantanal region (Western Brazil but extending into Bolivia) of Venezuela, is well known Anaconda habitat, its where the Anacondas call home. They are part of the Boa Constrictor family. Anacondas, also known as water boas. Anaconda is derived from "Eunectes", which in Greek means (good swimmer) and the Latin word "murinus", (of mice) Presumed preying on mice. Anacondas are loaners and like to live near lakes, swamps and rivers. When they are threaten they like to hide in the water, that's why you will find them primarily close to a water source.
Amphibious animals are the main food for Anacondas, like toads, frogs, small crocodilians, as well as fish, birds, ducks, caiman and turtles also out of water pigs, rats, mice, etc. Even know it can eat big animals it usually sticks with this diet for food. When coiling around an animal and squeezing the pray to kill it, as soon as the heart stops the snake releases. The Anaconda has very sharp fangs, Anacondas have a very large number of sharp, rear teeth, they will not use there fangs to inject venom, the Anaconda will use them to grab hold of their prey. They do not kill with poison like a lot of other snakes. After the prey is dead, they will swallowed their pray whole, without chewing, at its leisure. Anacondas have very efficient but it's also a slow digestive systems. The Anaconda Snake usually takes many days to digest a small pray, and weeks maybe months for a huge meal. The Anacondas digestive system produces a very strong digestive enzymes, which can digest everything except fur, beaks, and claws. But unbelievably, these enzymes are not able to digest plant matter, so it will passes through their system intact
Anacondas live a very long life around 35 - 50 years. The average size of one of these giant snakes is the Females 12 to 20 feet or (3.5 to 6 meters) and Males 8 to 12 (2.5 to 3.5) and Growing in some cases up to 550 pounds (or 228 kilograms approximately)
Anacondas give birth to live young, around 20-32 at a time. Anacondas mate in a very unusual style of behavior. The ovulating female attracts Several males resulting in a (mating ball) that can often hide the female from view. The mating always takes place in water. After a gestation of six months the females give birth to live babies in April to July, the wet season normally coincides with their birth in the Anaconda Snakes native range.
If Anaconda Snake were to come across a person in the Jungle it would most likely slithering away, because they don't have much reason to attack a human, they will usually only attack if they feel threatened.
Search the Web for More information on Anaconda Snake at LookSeek.com Search