Back To Category Aquarium Fish Other
Title :
American Flag Fish
Category: Aquarium Fish Other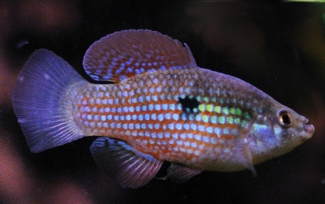 The American Flag fish Minimum tank size should be about 20 gallons. they are a very easy fish to take care of, good for beginners. Their Temperament is a little aggressive. The water Conditions recommended, are pH 6.7-8.2, temperature 65-72° F, KH 6-20, pH 6.7-8.2. They grow up to 2½ inches. They are colored with across the body stripes of Blue, creamy olive Green, Red and rainbow-colored scales sparkle like stars on the blue anterior of the American Flagfish. The dorsal and anal fins are tinted yellow with added rows of red dots. their is a dark black center spot located in the middle of the side. When light is reflected this pattern really sparkles. The female American Flagfish is larger the the male, more full bodied, and will be more yellow in coloration than the male.
Their Dietis a Omnivore
They are originally from Florida. From the family of Cyprinodontidae American Flag fish or (Jordanella floridae). The American Flag fish is an pleasant Killifish is a native to Florida ("oviparous" means egg-laying) and is highly sort after, for its algae-managing accommodation. This is all a good reason to purchase this interesting New World Killifish. The beauty and colors of this fish are sure to make you a Flag fish lover. When you look at the Killifish you can see why it is named after the American flag.
The American Flagfish fish comes from swamps, marshes, ponds, and lakes from Florida, south to the the Yucatan Peninsula, in southeastern Mexico, separates the Caribbean Sea from the Gulf of Mexico.
If you have the proper water quality, the American Flagfish can adapt to a variety of water conditions, the American Flagfish, can do great in cool-water aquariums, or even small outdoor ponds. If you are setting up an aquarium for the American Flagfish, kept with a setup that mimics its natural habitat, meaning a densely planted tank with minimal water movement. It also prefers dim conditions, you should include roots, driftwood, and rocks for good hiding places, a lot of plants along the sides and back of the aquarium and a covering of floating plants. Choose hardy plants that can withstand these conditions, hornwort, Elodea, java fern and java moss are all good choices. An open area in the aquarium at the top is important, that's why we recommend a 20 gallon tank for free swimming surface area.
The American Flagfish will eat most small dried foods, live foods such as brine shrimp, white worms, tubifex, and some commercially prepared flake and frozen foods. Supplement the diet of the American Flagfish with prepared algae flake food or algae tablets. Feed them plant matter on a regular basis to keep them in the best of health. Spirulina or other algae-based flakes, spinach leaves and shelled frozen peas all make good additions to the diet.
Search the Web for More information on American Flag Fish at LookSeek.com Search